Rembrant's World
---
Welcome to Rembrant's World - home of many "worlds". Since I live in Orlando, Florida, it seems appropriate. This is me and the car that many of you say is only in my mind.
Well, here's to sitting on my mind.
Notice the shoes, we all must be original, Right?????
OK, a little bit about me.....


I am a professional artist and photographer, dealing with many different subjects and media.


I have both a BFA in Fine Art and a Masters in Art Education.


I am a fourth degree Black Belt Instructor in Tae Kwon Do.


---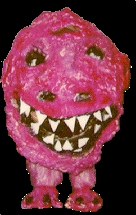 This is how we in Florida eat tourists, oops I mean treat tourists.....
Actually this is a costume from last Halloween.
This page created with Netscape Navigator Gold
If you have comments or suggestions, email me at tra48705@ao.net